Life Outside the Oval Office: The Track Less Traveled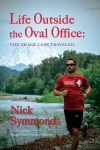 October 01, 2014
I imagined people laughing at me and asking how I could be so good at the Mile in PE class, but so bad at cross country running. - Nick Symmonds
Talent, a sporting idol, or pushy parents could all be reasons for someone to take up track and field. Not for 2013 World 800m silver medalist Nick Symmonds. When he started running XC in eighth grade, he hated it. But there was one reason he had to stick with it: girls. SPIKES gets an exclusive excerpt of his new book "Life Outside the Oval Office: The Track Less Traveled".
One hot August day, just before I began my eighth grade year, I voiced my soccer frustrations to two friends as we sat by our local pool. My friends had just signed up for the cross country team and suggested I do the same.
Normally I would have laughed at the idea of "running for fun," but these weren't just any two friends. Rather, I was lounging poolside with the two prettiest girls in my class. I had a huge crush on one of them and would have gone out for the dance team if she had asked me to. Hormones had recently kicked in and I found the opposite sex fascinating.
As soon as I got home I told my parents that I wanted to run cross country that fall. As always, my parents were supportive. Just as they had done with my interests in golf, hockey and skiing, they made sure I had all the gear I needed. In hindsight, they were probably relieved to find that all I needed for cross country was a new pair of running shoes.
From the first day of practice I could tell two things about my new sport. One, co-ed practices were awesome, and two, distance running sucked. I quickly got to know many people on the team and liked most of them, but the idea that we were going to run, for an extended period of time with no real purpose, seemed absurd to me.
Continue reading at: http://spikes.iaaf.org