London Olympic Silver Medalist Leo Manzano Retires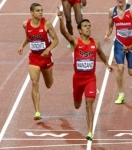 July 28, 2019
"Leo solidified in London that Americans should be getting medals at World and Olympic Games. He proved that."
By Chris Chavez, Sports Illustrated
During the bell lap of nearly all U.S. Outdoor Track & Field Championship 1500 meter final since 2007, fans eyes had to stay peeled to the 5'5", 120-pound frame of Leo Manzano—no matter how far back in the pack he might have been, the star out of Texas would regularly find a way to kick down field in the final straightaway and come away a top 3 finish and a spot on Team USA, if not outright win.
If you saw Manzano hugging the rail on the inside of the track, seemingly boxed in, you still couldn't count him out. He could pop out at any second to make his clinching move. If he was in an outside lane, competitors knew they had to get in front of him or wind up getting eaten up somewhere with 200 meters to go. If they didn't have enough space on him with 100 meters left, he was as good as gone.
"You had to try and get the jump on Leo because coming down the homestretch you knew that he would be the fastest guy coming," Andrew Wheating, his Olympic teammate and longtime competitor, said. "Those of us in contention for the top three spots all knew that. He had a lethal kick and the only option was to try and get ahead on him. However, you rarely got that chance."
At this weekend's USA Championships in Des Moines, Iowa, that feared finisher will be watching from the stands as a retired star. Manzano has decided to retire, but finishes his career with a silver medal in the 1500 meters from the 2012 Olympics in London, the 6th fastest 1500m time ever run by an American (3:30.98) and the 10th fastest outdoor Mile (3:50.64).
The brilliance of Manzano's tactics helped deliver the first American Olympic medal in the 1500 meters since 1968 when he crossed the finish line and raised his right arm in celebration behind Algeria's Taoufik Makhloufi for silver. Manzano sat in 10th place going into the final lap, managed to close in about 53 seconds for the final 400 meters and ended up just .67 seconds away from gold. Since Jim Ryun's medal in Mexico City, U.S. middle-distance stars like Steve Scott, Sydney Maree and Alan Webb had proven Americans could still run fast but it was Manzano's kick that put the United States back on the Olympic podium on the world stage.
During his celebration, Manzano draped both the American and Mexican flag over his shoulders. He wanted to dedicate the moment both to his adopted home, his birth country and parents, who immigrated to the United States from Dolores Hidalgo in 1988 when Manzano was 4-years-old.
Continue reading at: si.com/olympics