Loudoun Valley's Andrew Hunter nearly cracks 4 minute Mile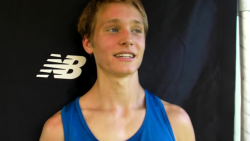 June 17, 2015
"That's the goal of any high school runner — to go under 4 minutes."
By Jason Butt, The Washington Post
Halfway through Saturday's adidas Grand Prix Boys Dream Mile in New York, Loudoun Valley junior Andrew Hunter figured a four-minute pace was out of the question. The field wasn't moving fast enough to approach the elusive time.
That didn't mean the runners wouldn't try over the final two laps.
Hunter was one of three runners who broke away from the front pack late and in a flurry. He placed second in a personal-best 4 minutes 2.36 seconds. Grant Fisher of Grand Blanc, Mich., who will run for Stanford this fall, won in 4:01.73.
Continue reading at: www.washingtonpost.com