Lyme Disease almost ended Robby Andrews's career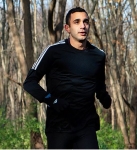 January 25, 2020
What all runners need to know about the tick-borne illness and its treatment
By Gretchen Voss, Runner's World
In early June of 2018 pro middle-distance runner Robby Andrews was on fire. Was, unquestionably, at the top of his running game. The then-27-year-old had just run one of his fastest races ever: 3:36 in the 1500 meters at the Oslo Diamond League Meet in Norway, beating out 18-year-old phenom Jakob Ingebrigtsen. Which is why, for Andrews—winner of the 800 meter national outdoor title in high school, holder of a national indoor record in the 800 meters as well as the 1000 meters—what happened two weeks later was such a shock.
June 21: The USATF Championships in Des Moines, Iowa. Andrews felt confident going into the 1500 meters, but mid-race he completely ran out of steam. He placed a disappointing fifth in his heat, not even qualifying for the finals. "I don't know what happened," a confused Andrews told reporters after the race.
A few days later he came down with flu-like symptoms. For the next month he battled nasty upper respiratory and sinus infections and 102-degree fevers. Training "just sucked," says the Rio Olympian. "My paces were nearly 40 seconds slower than they'd been just a few weeks before." Andrews went to his doctor, who ran tests for everything from Lupus to Lyme, but they all came back negative. "I was told, 'There is literally nothing wrong with you,'" recalls Andrews. But there had to be, he knew. This could not possibly be all in his head.
Still, he had a contract with adidas to fulfill, so Andrews traveled to Europe, where he clocked disappointing times: 3:44 in the 1500 meters at the Lignano Meeting International in Italy; 1:52 in the 800 meters in Flanders Cup Kortrijk in Belgium. For the remainder of the summer, Andrews felt constantly wiped out. Normally he would be up at 7:30 to train; now, he couldn't pry himself out of bed until 10:00. The few days a week he forced himself to run, he'd get so dizzy and breathless he'd have to quit after 20 minutes. Every afternoon, he napped for up to four hours.
He kept thinking how closely his symptoms resembled those of people he knew who'd had Lyme, including his older sister Kristin (also a runner who is a 2020 Olympic hopeful) and his former roommate, Donn Cabral (a 2012 & 2016 Olympian in the 3000m steeplechase), so Andrews asked to have his Lyme test re-run in September. It came back positive. The doctor wanted to prescribe antibiotics—the standard treatment for Lyme—immediately, but Andrews was worried about the side effects. Instead, he decided to take the advice of a holistic doctor who had helped his sister during her bout with Lyme in 2016.
Once a week Andrews swallowed eight drops, an hour apart—a concentration of herbs such as ashwagandha, rhodiola, turmeric, licorice root and cordycep mushrooms—that the holistic doctor said would help strengthen his immune system. He soaked his feet in a proprietary blend of herbs that he was told would draw toxins out of his body. He spent more than $1000 on treatment. He didn't care if anyone thought he was nuts. He just wanted to feel better.
And he did, for a few months. "My energy went way up. I could run three miles without having to stop," says Andrews. Then, in February, it all fell apart—an almost overnight, dramatic decline in his physical and emotional health. Fatigue weighed down his body. Headaches crackled through his brain. He was sweating so much at night that he had to change the sheets. And perhaps the worst? "Really depressive thoughts. It was a dark couple of months," Andrews says. "If it wasn't for my girlfriend and family, I would have gone days without talking to anyone or leaving the house." He raced at the USA Indoor Championships at the end of February on Staten Island, in the 1000 meters. "I felt bad from the first step. Something was wrong." He clocked in at 2:26—dead last.
Disillusioned with the holistic protocol, Andrews finally accepted a prescription for antibiotics in March. His doctor told him to take them until his symptoms were relieved for a full month. Andrews's concerns about side effects were valid; the antibiotic gave him severe fatigue and headaches, brain fog and GI issues.
Desperate to make the 2019 World Championship team, he ran the 800 meters at the Adrian Martinez Classic in April, only to come in last, again. In June he set his sights on the Princeton Qualifier. "I missed my college roommate's wedding for it, that is how important this race was for me," he says. Midway through the 1500m race, he dropped out, wheezing and depleted.
Andrews felt like he was out of options. And although he didn't know it at the time, he had entered the Lyme Wars, a fiercely contested fight about why some Lyme patients develop chronic, relapsing symptoms even after treatment—and what to do about them.
A stealth pathogen. That's what some researchers call the corkscrew-shaped bacteria—Borrelia burgdorferi—that causes Lyme disease, now one of the fastest growing infectious diseases in America. More than 300,000 new cases are diagnosed every year, according to estimates from the Centers for Disease Control & Prevention (CDC).
Black-legged ticks pick up Borrelia from the birds and small mammals they feed on, then they pass the bacteria into our blood when they feed on us, usually from May to September—prime months for logging miles on wooded trails and grassy park paths.
Continue reading at: runnersworld.com