Lynn Rathjen, 75, Just Broke Six Minutes in the Mile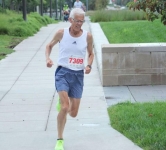 August 14, 2020
"When you see people in this age group, when you get into the 60s and 70s, there's more camaraderie than there is competition."
By Sarah Lorge Butler, Runner's World
Lynn Rathjen, a high school cross country coach and retired physical therapist in Grand Island, Nebraska, has been running consistently for the past 40 years. But he didn't give a whole lot of thought to setting age group records until his son, Andrew, looked them up.
As Rathjen was approaching a new age category—he turned 75 in January—a few marks suddenly looked attainable. He signed up for the USATF indoor and outdoor Masters Championships, with the goal of gunning down some fast times.
Then COVID-19 intervened, canceling the races Rathjen had targeted. But on August 9, at the socially distanced Lincoln Mile in Nebraska, he got his shot—and set an American 75–79 record for the road Mile, running 5:59.18.
Rathjen took more than 17 seconds off the previous record, 6:17, set by multi-time Masters champion Doug Goodhue in 2017. Rathjen ran mostly evenly, he said, hitting 3:00 for the half-mile split, slowing slightly on his third quarter, and finishing strongly.
"I had a good sprint at the end," he said, "and I could see the overhead big clock, which was a motivator in getting under 6:00."
Rathjen was a strong high school runner, but he gave up the sport until he was about 35. Since then, he's been running consistently, but never with high mileage—he rarely exceeds 20 miles per week in an effort to preserve his good health. In his practice as a physical therapist, he saw many runners who progressed too quickly from beginners to the marathon over the course of a year or two, before sidelining themselves with debilitating injuries.
Continue reading at: runnersworld.com