Mammoth Track Club Opens Track, New Era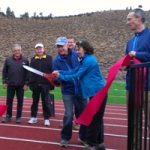 November 19, 2012
Group hopes to reinvigorate with world class facility and broader mission.
By Michelle Hamilton
A snowstorm in the Eastern Sierra paused just long enough on Saturday for Olympian Deena Kastor and her husband, Andrew, to lead about 75 people in an inaugural lap around the new track in Mammoth Lakes, Calif. The event officially marked the opening of the facility after five years of fundraising and planning, but it also heralded in a new era for the Mammoth Track Club.
Earlier this month, coach Terrence Mahon left for a national coaching position in the UK, and the Kastors assumed leadership of the elite running group. Deena remains on the athlete roster and is now president of the board. Andrew has taken on the role of head coach.
Continue reading at: runnersworld.com
EDITOR'S NOTE: The Mammoth track has Mile and 2 Mile marks - thanks to Andrew Kastor.