Mary Cain of Bronxville Breaks Girls HS Mile Record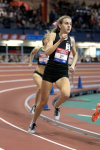 January 27, 2013
Junior shatters long-standing mark in girls HS indoor Mile as well as absolute mark
By Brian Heyman, LoHud.com
NEW YORK — Mary Cain sat there inside Scarsdale High at 7:45 Saturday morning, Jan. 26, just another kid in the room taking the SATs until 12:30pm.
Busy day. Shortly before 4:00pm, she crossed the finish line inside The Armory in northern Manhattan and looked up at the big board for her time in the elite women's Mile at the New Balance Games.
The magic numbers flashed next to Cain's name: 4:32.78.
This isn't just another kid. The 16-year-old Bronxville High junior not only arrived a close third among a field of pros, but she shattered the longest-standing national high school record in girls track, a record set on March 17, 1972, when Debbie Heald ran 4:38.5 for her indoor Mile in Richmond, Va.
New Balance Games Invitational Mile
New York, NY, Saturday, January 26, 2013
1) Sarah Brown (TN), 4:31.61
2) Nicole Sifuentes (CAN), 4:31.65
3) Mary Cain (NY), 4:32.78*
4) Heather Wilson (NJ), 4:34.59
5) Renee Tomlin (DC), 4:39.37
6) Cat Beck (NY), 4:40.12
7) Genevieve LaCaze (AUS), 4:41.68
DNF: Ashley Higginson (NY), pace
* U.S. high school indoor and absolute record (previous indoor record, 4:38.5, Debbie Heald (CA), 03/17/72)
Race & interview video clip below.