Matthew Centrowitz: The best American Miler ever?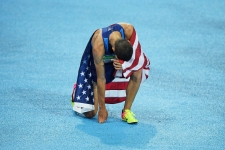 August 09, 2017
"The moves he makes in races are almost violent. They are so sudden and decisive."
By Liam Boylan-Pett, SB Nation
For once, Matthew Centrowitz didn't know what to do when he crossed the finish line.
He had copied a LeBron James celebration after winning the U.S. title in the 1500 meters in 2015 and dabbed like Cam Newton after winning an indoor Mile in 3:54.02 last year in Winston-Salem. But after finishing as the first American to win Olympic gold in the 1500 meters since 1908, a stunned Centrowitz could only extend his arms and hold his palms up to the sky as if to ask, "Did that just happen?"
Centrowitz won silver at the 2011 World Championships and bronze in 2013, but a win in Rio seemed out of the question going up against Kenya's Asbel Kiprop, one of the best metric Milers of all-time. Centrowitz controlled the race from the gun, however, and blitzed through a last lap of 50.6 seconds as his family and close friends celebrated by yelling and attempting to crowd surf in the stands.
One week after the race of his life, Centrowitz was still in disbelief. If he could break the American record in the 1500 or the Mile, he told me then, he would have claim to the title of greatest American Miler of all-time.
Continue reading at: www.sbnation.com