May, Keino produce thrilling Mile clashes during New Zealand tour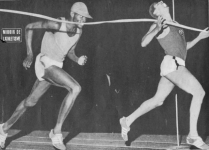 December 31, 1965
German Olympian clocks fastest Mile on grass; in earlier meet, Keino sets 5000m world record
From Once Upon a Time in the Vest
In New Zealand, Kip Keino and Jürgen May are enjoying the mild weather of the southern hemisphere. The headline in the September issue of Track & Field News proclaimed "1965 World Mile to 10,000 Record Revision Complete". Not so fast, Cordner & Bert, we got one more coming.
In Auckland on November 30, Keino warms up with a solo 3:41.9 1500. The big one comes on the same track three days later. Running alone after the first 120 yards, the Kenyan is on a mission, one that ends with a 5000 meter world record, 13:24.2, clipping 1.6 seconds off Ron Clarke's mark. His half mile splits are given as 2:06.5, 4:16.0 (2:09.5), 6:28.7 (2:12.7), 8:33.8 (2:05.1), 10:47.0 (2:13.2) and 12:58.4 (2:11.4). His three mile time is only the second ever under 13 minutes (Clark 12:52.4).
EDITOR'S NOTE: Our more astute readers may notice a discrepancy in those splits. He ran his fastest split in the middle of the race? No one was with him – Bill Baillie was a distant second in 14:01.2 - so there was no one he was trying to drop. There is no mention of a quickened pace. Hmmm. What if there was a misprint and the two mile mark was hit in the typographically similar 8:38.3? That would make the fourth half mile 2:09.6 and the fifth half mile 2:08.7. The error would have to have been made on the Auckland end of the communication, as TFN made a point of the two mile time being 8:33.2, 6.8 seconds faster than Clark's split in his record race. Something for the more insightful among us to ponder.
Keino says he could have gone faster if he had someone with him but that this is the fastest track he has ever run on.
May, however, doesn't experience the same warm, cuddly New Zealand welcome as Keino. He loses the Mile to John Davies 3:59.0 to 3:59.1.
On December 4 there is a meet in Napier which Keino and May attend. May takes the half easily in 1:48.9. Keino once again has no significant opposition and soldiers on by himself to a 3:56.9 Mile.
December 6 finds the two visitors in Tokoroa where Keino displays admirable consistency, cranking off another 3:56.9 to defeat Davies, 4:01.0. May strides through an unpressed half in 1:49.7. Two days later in Hamilton, Keino, suffering from a lack of competition, runs 3000 in 7:50.4, 10.8 seconds off his world record. It appears that he will have no significant competition on this tour.
That assumption would be wrong. On December 11 on the 386 yard grass track in Wanganui, the site of Peter Snell's first Mile world record in 1962 (and also the first sub-4 on New Zealand soil), he tangles with May over 4.56 laps, yep, a Mile. Maybe May can push Keino to the record. Keino welcomes the challenge. He leads through the quarters in 56.4, 1:55.6 (59.2) and 2:54.9 (59.3) with the German close. The penultimate furlong goes off in 29.6 (3:24.5). The coveted world record, 3:53.6, is within range. But so is May who is now on his shoulder. As they enter the final straight May's 1:46.3 800 speed comes into play. Keino can't hold him off. May blows by en route to the second fastest Mile ever run (and fastest ever on grass). His 3:53.8 misses Michel Jazy's WR by just two tenths. Keino finishes in 3:54.9.
The duo's last tour clash comes four days later in Auckland with similar results. Keino tries to shake May but succumbs with 40 yards left, 3:54.1 to 3:54.4 (photo above). Merry Christmas, Michel Jazy. Your present is getting to keep your record.