McGorty breaks 4 minute Mile barrier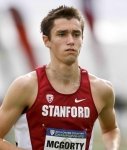 January 23, 2015
"This is more of a building block than anything else. It's obviously nice to accomplish it, but it's a stepping stone to future success hopefully."
By Nick Eilerson, Fairfax Times
Sean McGorty, a redshirt freshman at Stanford, made the most of his first collegiate track race last Saturday. The former Chantilly High standout completed the 307-meter Dempsey Indoor oval at the University of Washington Indoor Preview in 3 minutes 59.34 seconds, his first sub-4 Mile (#426 U.S. to do so), and making him the first collegiate runner to clock a sub-4 minute Mile in 2015.
McGorty, an All-America cross country runner in the fall, became the 14th runner in Stanford history to break 4 minutes. The list includes Olympians Jeff Atkinson, Gabe Jennings, Duncan MacDonald and Michael Stember.
A relatively slow start put some doubt into McGorty at the race's outset. He completed the first lap in 62 seconds, well outside the pace necessary to eclipse 4 minutes.
"I remember after hearing that split I thought to myself, 'Well, I guess it's not happening today,'" McGorty said. "So at that point I just started to focus on racing and competing for the win."
After finishing his first two laps in 2:03, McGorty tucked in behind Canadian Cam Levins, one of two Nike Oregon Project Olympians competing in the Open, 13-man race. He kept pace with Levins (3:58.75) and American Matthew Centrowitz (3:58.60) — the race's other Olympian — and was able to close out his final two laps in 1:56.
Continue reading at: www.fairfaxtimes.com