Meet Local Olympic Hopeful Matt Elliott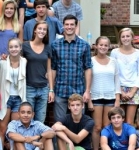 August 27, 2014
Sub-4 minute Miler emphasized the importance of having a passion for running.
By Jennifer DeCurtins, Charlotte Observer
The Charlotte Country Day high school cross country team enjoyed a special evening on Sunday when Runner's World cover star and Olympic hopeful Matt Elliott delivered an uplifting and heartfelt motivational speech at their team dinner. Despite a list of running accomplishments including nine sub-4 minute Mile finishes, a 13:44 5K PR and placing fourth in the 2013 USA Outdoor Championships in the 1500 meter event, Matt Elliott is relatively unknown in the Charlotte running scene.
This is in large part due to his humble, hardworking attitude, his commitment to his job as a teacher at The Palmetto School and his dedication to training. The Palmetto School is a 501(c)(3) school located in Rock Hill that serves children in grades K-8 who have been removed from their home by DSS for reasons of abuse, abandonment or neglect. The children live in an on campus shelter, The Children's Attention Home. When he's not at school with his students, Matt is focused on his running.
Over the last year an average week for Matt has included included 90 miles of running, 50 hours at work, 3 pool sessions and 3 strength training workouts. He credits his successes in both life and running to his investment in his path and his self-motivation to reach his goals. At 28, Matt admits he is considered by many to be "too old" to be making a bid for the 2016 Rio Olympics but he's taking a two-year leave of absence from his teaching position to train in Knoxville, Tennessee for the 1500 meter event. He's leaving his students, his family and his friends behind to follow this ultimate running dream.
Continue reading at: www.charlotteobserver.com