Meet Matt Maldonado, the best Miler you don't know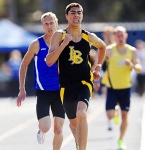 January 08, 2013
By Ryan from Flotrack
Matt Maldonado was a 4:12 high school Miler who ran to Jamba Juice for practice, but started taking things more serious after his junior XC season. He went to college at Long Beach State and showed steady improvement, but after a 3:44 sophomore season he became anemic and missed his Big West Conference junior track track season. He came back in 2012 stronger than before as he made the NCAA indoor meet with his first sub-4:00 Mile (3:59.08) and followed it up with a redshirt performance in the 1500 of 3:37. Matt talks about his progression and where he'd like to go in 2013, his final collegiate season.
By Mitch Kastoff, Flotrack
After the interview, Matt took some questions from the Flotrack community. Check out what he had to say and where we'll see him race first this season!