Meet Sub-4 / Sub-2:10 Man: Ken Martin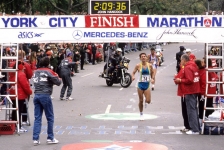 December 17, 2018
"Still, more people have climbed Mt. Everest than broken 4:00 for the Mile. Add a sub-2:10 marathon to that and, well, I'm not sure what to compare that too. It sounds cool, so I'll simply go with that."
By Jack Welch
Is Ken Martin too young to be an OGOR? Original Gangster of Running: a title awarded more for who you are than when you were running big time.
But thinking 1966-76 for our purposes here.
Think about it. A walk-on at Oregon runs a sub-4 minute Mile AND a sub-2:10 marathon (a rare feat in the sport). An American, more than a few decades ago.
That's some pioneer stuff right there. Hadn't seen Ken Martin for many, many years, many years. Then maybe four years ago, he was winning some well-deserved award and I was there taking notes. Beers may have been involved.
Big fan of Dick Harter and The Kamikaze Kids. Running was the next sport after basketball. Ninety-eight (98) pounds going into high school.
He's from Coquille, Oregon. Which is near Bandon. Near Coos Bay. Never ran all year round. Only 20 miles per week in those high school days.
His distance coach was a high jumper. Never won a state championship at Coquille. Near Bandon. Near Coos Bay. You've probably heard of Coos Bay. He liked Eugene, the big city. He shopped there, it's different… hippies. Met some kids at basketball camp.
Doesn't think he ever went to a track meet at historic Hayward Field. May she rest in peace.
Al Tarpenning – interesting man – recruited Ken to Lane Community College. The Titans of LCC kicked some ass in the Seventies.
He didn't know you can walk-on to the team at the University of Oregon. As it was then known.
"A couple of weeks before going to Eugene as a frosh," Ken recalls, "I started doing three 5 mile runs daily. 5 miles, three times. For a week or two."
He made up his own workouts, stupid stuff. 16 x 200. Next day 16 x 400. On asphalt. This from a guy who had once thought running 20 miles weekly was some serious training.
"My first year at Lane, I beat the Duck's fifth runner," Ken says. "Think it was Art Boileau."
You can almost see the memory wash across his face. "I mean, I had no idea."
Continue reading at: jackdogwelch.com