Mental Toughness Leads Kate Murphy to Big Wins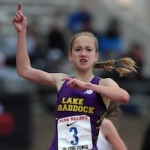 May 11, 2015
The Lake Braddock High School sophomore has her sights set on fast times in upcoming post-season races.
By Marc Bloom, Running Times
Athlete: Kate Murphy
Year: Sophomore
School: Lake Braddock High School
Location: Burke, VA
1000m PR: 2:53.78
1600m PR: 4:46.99
3000m PR: 9:32.82
2 Mile PR: 10:20.22
Key Workout:
15-minute warmup, last five minutes at brisk pace
Dynamic stretching, drills
4 x 800 meters in 2:31 with 400 jog recovery between; 2 x 200 in 35 seconds, goal pace for upcoming race
15-minute cooldown, stretching, drills
Kate Murphy of Virginia, who won the Penn Relays high school girls 3000 meters on April 24 in Philadelphia, raced to another big victory at the Dogwood Track Classic 1600 meters in Charlottesville on Saturday. Murphy, a sophomore at Lake Braddock High, flew out to a big lead from the gun and held it for a wire-to-wire triumph in 4:46.99, which was a 15-second outdoor PR for Murphy. The time made her the nation's second-fastest sophomore this season in the 1600 meters or Mile. Murphy, 16, is currently training for her state championships, June 5-6, and is hopeful of getting an invitation to the following week's adidas Grand Prix High School Dream Mile in New York.
Continue reading at: www.runningtimes.com