Michigan Mile, Part of the HealthPlus Crim Festival of Races, Set for Friday, August 23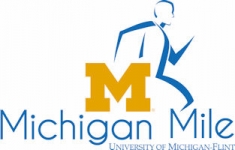 June 14, 2013
Top professional field expected at 13th stop on the inaugural Bring Back the Mile Tour; $10,000 prize purse; also new course
FLINT, Mich. – The Crim Fitness Foundation has announced a new date and course for the Michigan Mile. The event, part of the 2013 HealthPlus Crim Festival of Races, is set for Friday, August 23 following the Lois Craig Invitational of the Michigan Special Olympics.
This date change will make it easier for more runners and walkers to participate in this increasingly popular event that features the only "Block M" medal for race finishers. The Mile race welcomes athletes of varying fitness levels, from competitive high school and collegiate track athletes to those just starting to run or walk.
"Moving the Michigan Mile to Friday gives more people the opportunity to participate in this popular distance," said Judge Bob Ransom, Crim Race Committee Chair. "Whether runners and walkers use the event to warm up before Saturday's big races, or to test how fast they can sprint a single mile, or even if they are beginning their journey toward an active lifestyle with a single mile, they'll be able to participate in this showcase Crim event on Friday evening, August 23rd, at 7:30pm."
A brand-new Professional Mile has been added to the Michigan Mile. This race will be Michigan's premier invitation-only Mile road for elite runners with a total prize purse of $10,000. The Michigan Mile is also the 13th stop on the nationwide inaugural Bring Back the Mile Tour 2013.
Throughout HealthPlus's long-time partnership with the Crim, the two organizations have shared a mutual dedication to improve the health of the greater Flint community and promote active, healthy lifestyles. This year, HealthPlus has significantly increased their commitment to that mission and to the Crim, and have become the first ever title sponsor of the HealthPlus Crim Festival of Races, for both 2013 and 2014.
The Crim Fitness Foundation, located in Flint, Michigan is a 501(c)(3) non-profit organization committed to improving community health in Flint and beyond through best practice nutrition and physical activity programming and advocacy. Through its annual HealthPlus Crim Festival of Races, its CrimFit adult and youth training programs, and its Active Living events and advocacy efforts, the Crim promotes well-being through active, healthy and mindful lifestyles.
Visit Crim.org for more event information.