Mile Great Glenn Cunningham 2012 National Distance Running Hall of Fame Inductee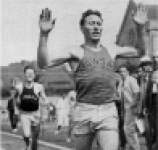 May 23, 2012
11th class also includes steeplechaser Horace Ashenfelter and marathoner Jacqueline Hansen
UTICA, N.Y. – The National Distance Running Hall of Fame announced the eleventh class of inductees to be honored in July in Utica New York. The class of 2012 is comprised of Glenn Cunningham, Horace Ashenfelter and Jacqueline Hansen.
"This year's class is truly worthy and is representative of the highest achievements of American distance running," said Tim Reed, Executive Director of the National Distance Running Hall of Fame.
Severely burned as a child, Glenn Cunningham went on to be one of the world's top middle distance runners during the 1930s. In 1932, as a student at Kansas University, Cunningham won six Big-6 Mile runs, two NCAA titles, and eight AAU national titles. In 1933, he swept the 800 and 1500 meter titles at the AAU Nationals. Cunningham captured a silver medal in the 1500m at the 1936 Berlin Olympics. He went on to set a world record in the 800 meter with a time of 1:49.7. In 1938, he set the indoor Mile world record with a time of 4:04.4 surpassing the outdoor record by a full two seconds.
The Ceremony will be held at 1:00pm in the Auditorium located in the Information Technology Building. Admission will be free and open to the general public.