MileSplit Best of 2008: #1 German Fernandez Historic Distance Double at CIF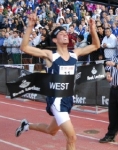 January 05, 2009
German Fernadez backs up his 4:00.29 1600m with a record 8:34.23 3200m at the California State meet on May 31, 2008
By Fran McLaughlin & Aron Taylor, MileSplit
In the past we look to Jim Ryun's phenomenal 3:59.0 high school Mile record as a 16-year old junior in 1964 and eventual 3:55.3 set the year following as a senior.
Gerry Lindgren's historic 8:40.0 indoor two-Mile as a 17 year old senior in 1964 standing untouched for more than 40 years. Alan Webb's 3:53.43 outdoor Mile record and 3:59.86 indoor Mile record set in 2001.
Finally, Jeff Nelson's mind boggling 8:36.3 two-Mile record in 1979 that stood the test of time untouched for more than 28 years. These are the moments that are remembered in the chronicles of history as historic moments for prep distance running.
Welcome German Fernandez.
Last year, Burbank senior German Fernandez left his mark in history with a performance that seems as mindboggling as it does improbably.
Continue reading at: milesplit.com