Millrose Champ James Burke Loves the Simplicity of Running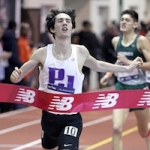 February 25, 2015
The New York high school star is undefeated this season.
By Marc Bloom, Running Times
Athlete: James Burke
Year: Senior
School: Port Jefferson High School
Location: Port Jefferson, NY
800m PR: 1:53.49
1000m PR: 2:26.75
Mile PR: 4:11.25
3200m PR: 9:18.67
Key Workout:
10- to 15-minute warm-up, stretching, drills
10 x 300m on the school driveway
1 Mile cool down, stretching
James Burke of Long Island, winner of the Millrose Games boys' Mile, hasn't lost a race this season—he's 11 for 11. Fresh off the Millrose win, Burke is training for the upcoming New York Indoor State Championships, working out only on the roads thanks to severe winter weather. A 17-year-old senior at Port Jefferson High School, Burke won the Millrose race in 4:11.25 at the New York Armory on February 14 and expects to face many of that event's top finishers again in his state meet, March 7, at Cornell University.
Continue reading at: www.runningtimes.com