Mountain Avenue Mile lives on in Marathoner Jane Welzel's honor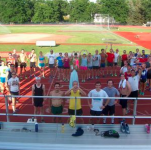 August 11, 2015
"I'll always remember Jane's energy and generosity. It is a lot of work to put on a race and she always pulled it off with a smile," McCullough said. "She gave a lot of herself, her time and money to put these races and other events on and we hope we are doing them justice."
From Stephen Meyers, The Coloradoan
A year ago, beloved Fort Collins runner Jane Welzel sat in a chair along the finish line of the Mountain Avenue Mile, shaking a cowbell and shouting the names of every racer as they crossed the line.
The former U.S. marathon champion felt weak on this warm August night, the aggressive form of neuroendocrine cancer diagnosed in April leaving her body in pain.
But here she was, supporting the runners at the race she created not long after moving to Fort Collins in 1989 from Hopkinton, Massachusetts. Her partner Doug Mason tried to keep her at home, but Welzel insisted on being at the finish line to greet runners.
She "glowed," Mason said, a sign of her signature strength and determination.
"I still don't know how she did it," Mason recalls.
Continue reading at: coloradoan.com