Nate Brannen bids the sport adieu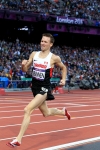 March 27, 2018
Three-time Olympian is a 6-time 1500m national champion and Canadian indoor Mile record holder as well as Commonwealth Games and Pan Am Games silver medalist
By Christopher Kelsall, Athletics Illustrated
Rock legends Neil Young and Stephen Stills wrote "Long May You Run" in 1974. The melody is enough to make your heart ache. The seemingly literal lyrics continue to be shrouded in mystery. What really happened at Blind River where his Hearse "Mort" broke down? Had it run a car's version of a marathon?
"With your chrome heart shining / in the sun / long may you run."
Gord Downie of the Tragically Hip is even more mysterious with the lyrics to "Long Time Running". But, as a lyric-oriented artist first and melody maker second, Downie writes in greater metaphor. Who is he going to tell on when he drops a caribou? Someone's heart aches for a very different reason, here.
The songs are part of the soundtrack of our lives, especially Canadian lives.
A guy can get pretty emotional about a car, even if it was built for the purpose of carting around dead people in a wood box. The experience of running around a track in a 1500 meter race is different, but it's metaphorically-speaking just as heart-achingly salient.
Any Canadian fan of running and really any North American running fan has run across the near 20-year middle-distance career of one Nate Brannen of Cambridge, Ontario. Born in September of 1982, the 35-year-old just officially stepped off the track for the final time, weeks before the season starts.
Continue reading at: athleticsillustrated.com