National Run a Mile Days to Move Youth Across America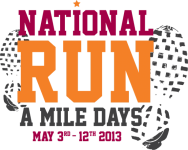 April 03, 2013
6th annual Mile celebration from May 3-12 expands to more elementary and middle schools
BETHESDA, Md. ‐ The American Running Association (ARA) will host and promote its National Run a Mile DaysTM from May 3‐12, the Maryland‐based national nonprofit announced today. "R U A MILER" will be the rallying cry at elementary and middle schools across the U.S. for the sixth annual national campaign. The Mile is the standard measure in America and has been the indicator of fitness in running and track for decades. ARA is supported by its professional division of physicians and allied health professionals who have fundraised to support the national effort to increase the fitness and physical activity levels of America's youth.
"The 'R U A MILER' focus is intended to get more of our youth motivated and enthused to run," said ARA's Executive Director Dave Watt. "The Mile is a good test and a great first step."
Track & field and distance running have shown increases in youth participation in recent years. This Miler campaign is American Running's effort to spur additional participation. In addition, ARA will promote efforts to make the Mile the standard mid‐distance race in high school replacing the 1600 meters (high school) as led by the Bring Back the Mile campaign.

"This year marks our sixth year of helping community and school leaders lead boys and girls in a fitness push with the Mile," said Watt.
ARA will sponsor additional elementary, middle school and track clubs in all 50 states to host a "R U A MILER" day. Host schools, running clubs and communities are encouraged to incorporate the "MILER" event into their PE class planners as well as community events.
"We are committed to supporting schools and groups who join the Run a Mile Days concept," Watt added.

ARA has added school and running club sites in additional states for 2013 but can still promote and assist other schools who are interested in hosting a Mile Day. Any school or organization interested in hosting a Mile Days event should contact the Mile Days staff (miler@americanrunning.org). Each selected event will receive National Run a Mile Days certificates for participants in their mile events. National host sites, results and photos will be posted on the National Run a Mile Days website as well as on the Youth Runner website.

May 6 is the anniversary date of the world's first sub‐4 minute mile when Roger Bannister showed the world in 1954 that the 4 minute mile was not a barrier. To this day, the sub-4 minute mile is a cherished achievement by male runners worldwide. ARA honors Sir Roger Bannister's historic and iconic achievement on National Run a Mile Days. His tenacity and commitment to challenge a perceived impenetrable barrier can be a lesson for anyone facing a seemingly out of reach goal.

About National Run a Mile Days
The National Run a Mile Days is produced by the Bethesda, MD based American Running Association (ARA). All event proceeds help produce this national track event and ARA's free youth walk‐run training programs. ARA is a nonprofit organization founded in 1968 to promote healthy living and active lifestyles among all Americans. It is dedicated to supporting runners through education and specialized programs, as well as encouraging all individuals from youths to adults to run and be fit. For more information about the ARA or to learn more about the Walk and Run programs, visit: www.americanrunning.org