New Balance High School Mile draws top fields for Millrose Games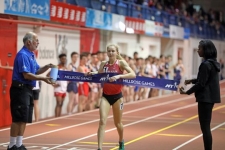 January 30, 2019
Record setter Katelyn Tuohy leads talented teens for famed indoor track meet
NEW YORK – Two of the major highlights of the 112th NYRR Millrose Games, scheduled for Saturday, February 9th at The Armory in Washington Heights, are the New Balance High School Mile races that display the top talent from the New York City metropolitan area with standout athletes from across the United States.
The 15 girls and 13 boys in this year's fields are some of the top distance runners in the country. Both races should be truly special. Below are the fields:
GIRLS
Katelyn Tuohy, JR, North Rockland, NY: Tuohy is arguably the greatest female high school cross country runner in history, having won Nike Cross Nationals two years in a row, while resetting course records. She is extremely accomplished on the track as well, holding national records in the indoor 5000m and outdoor Mile, with a personal best of 4:33.87 in the latter event. Tuohy is fresh off last Saturday's national high school indoor record performance in the Dr. Sander Invitational Women's 3000m, with a time of 9:01.81. Tuohy enters the NYRR Millrose Games as the solid favorite, but she finished a surprising fourth in last year's Millrose Mile, the only high school distance race she's lost in the last two years. She will look to gain redemption after blowing away the field at the NYRR Millrose Trials with a time of 4:39.15.
Marlee Starliper, SR, Northern, PA: Starliper made quite the early season statement at the Coaches Hall of Fame Invitational in December, running a time of 4:47.21 to comfortably qualify for Millrose. Her personal best of 4:43.49 is the second best in the field, and it won her a Pennsylvania indoor state championship, shortly after she placed third at Millrose one year ago. Her other accomplishments include a victory at the prestigious Penn Relays and a runner-up finish at the Foot Locker Northeast XC Regional.
Sarah Trainor, JR, Franklin D. Roosevelt, NY: Trainor outlasted a deep field to place second behind Tuohy at the NYRR Millrose Games Trials in a personal best of 4:52.65, which was enough to qualify her for the main event. Trainor is a steeplechase specialist outdoors, placing third in the state and second at New Balance Nationals Outdoor in 2018.
Lily Flynn, SR, Ursuline, NY: Flynn qualified for Millrose by placing second behind Starliper at Hall of Fame with an impressive 4:54.21 timestamp. She has used that performance as a springboard to a remarkable indoor season so far, running personal bests in both the 800m and 3000m, both of which were winning efforts. With a Mile PR of 4:48.26, Flynn's stellar range makes her an athlete to watch. Flynn's sister Anna placed fifth at Millrose in 2015.
Lauryn Heskin, SO, Marymount, NY: A local athlete hailing from New York City, Heskin qualified for Millrose by winning the 25th Hispanic Games with an indoor best of 5:02.68. This victory followed consecutive third-place efforts at Hall of Fame and the Marine Corps Holiday Classic. Only a sophomore, Heskin looks to be a factor on the distance scene for years to come.
Isabelle Goldstein, JR, Germantown, PA: After coming up short on three prior occasions, Goldsteing punched her ticket to Millrose with a big personal best of 4:56.33 at the New Balance Games. Goldstein is the 2018 PAISAA champion in the 3200m, and her sister Abbe won the Millrose Mile in 2017.
Camryn Wennersten, FR, Ridgewood, NJ: Wennersten placed third at the Millrose Trials behind Tuohy and Trainor, running a personal best of 4:58.44 to claim an at-large qualifying spot. The freshman is the youngest athlete in the field and her teammate Will Baginski will compete in the boys' race at Millrose.
Jessica Schneider, SR, Notre Dame, PA: Schneider placed third at the Hispanic Games, and her PR of 4:56.40 ten days later at the DELCO championships was enough to earn an invite. Schneider placed third in the Mile at the 2018 New Balance Nationals Outdoor and fifth at the state indoor championships.
Taryn Parks, JR, Greencastle Atrim, PA: Parks ran her personal best of 4:45.81 in 2017 to win a Pennsylvania outdoor state championship. More recently, she proved her fitness by winning the prestigious Virginia Showcase, earning her a Millrose invite. Parks also finished second at the state cross country championships and sixth in last year's Mile at New Balance Nationals Indoor.
Victoria Patterson, JR, Deerfield, MA: Patterson placed third at this month's Dartmouth Relays, running a personal record of 4:57.68, which was her first time breaking the 5-minute mark. She is also the reigning NEPSTA champion in the 1500m.
Victoria Starcher, JR, WV Flyers, WV: Starcher placed second at last year's edition of New Balance Nationals Indoor with a personal best of 4:46.32. She went on to sweep the West Virginia state championships outdoors, winning titles in the 800m, 1600m and 3200m. With tremendous range and championship experience, Starcher is sure to be a contender.
Claire Walters, SR, Fayetteville-Manlius, NY: Despite sporting a relatively modest PR of 5:02.14, Walters' 1500m PR of 4:34.91 set this past December suggests that she is capable of running significantly faster. The senior is most accomplished on the cross country course, placing fifth at each of the past two editions of Nike Cross Nationals to play a starring role in F-M's incomparable XC dynasty.
Phoebe White, JR, Fayetteville-Manlius, NY: White's 1500m personal record of 4:36.92 figures to put her right in the mix along with her teammate Walters. White displays excellent range, as she holds a PR of 2:11.39 in the 800m, while also contributing to her program's cross country success.
Kelsey Chmiel, SR, Saratoga Springs, NY: Chmiel has established herself as perhaps the second best cross country runner in the nation, finishing second behind Tuohy at Nike Cross Nationals in both 2017 & 2018. On the track, Chmiel ran her Mile personal best of 4:44.55 at Millrose a year ago to place second and defeat Tuohy in the process. She is also a sub-10 minute 3200m performer, making her one of the most accomplished athletes in the field.
Taylor Ewert, JR, Beavercreek, OH: Ewert holds a personal record of 5:00.22, but her true talents are in the racewalk, where she is the USATF junior champion and already one of the best competitors in the country at any level. Ewert has rewritten the junior racewalk record book over the past couple years and she will compete in the professional Mile racewalk at Millrose in addition to running the high school Mile.
BOYS
Sean Dolan, SR, Hopewell Valley Central, NJ: The senior from Hopewell Valley is the reigning New Balance Nationals Outdoor champion in the Mile and he holds an impressive personal best of 4:08.86. Dolan placed ninth in the Mile at Millrose a year ago, and he is an accomplished 800m runner, with 1:50.74 PR. Dolan has committed to run collegiately at Villanova University and his father coaches at Princeton University.
Matt Rizzo, SR, Bronxville, NY: Rizzo stamped his entry to Millrose by winning the Mile at the 25th Hispanic Games in a time of 4:17.32, a personal best. He placed third in the 1600m at the NYSPHSAA outdoor championships and also has an impressive cross country pedigree, finishing second at the prestigious Manhattan College XC Invitational and winning the Class C state title.
Alex Rizzo, SR, Bronxville, NY: Rizzo ensured that he will join his twin brother on the Millrose starting line by winning the Mile at the New Balance Games in a nearly identical personal best of 4:17.69. He also placed one spot behind his brother at Manhattan and finished third in the 1000m at last year's NYSPHSAA indoor championships. Rizzo will attend the U.S. Naval Academy next year.
William Coogan, JR, Phillips Exeter Academy, NH: A junior from New Hampshire, Coogan has sliced nearly six seconds off his personal best this winter, running 4:16.04 in December. Coogan has turned heads since the start of his career placing sixth in the freshman division of the Mile at New Balance Nationals Indoor two years ago at The Armory. His father Mark Coogan & mother Gwyn are Olympians, and Mark now coaches the New Balance Boston training group, which includes Abbey Cooper (nee D'Agostino).
Jake Renfree, JR, Knoxville Catholic, TN: Renfree is the best distance runner in the state of Tennessee, winning state championships in the indoor 2 Mile, outdoor 1600m and most recently the cross country title. With a personal record of 4:12.13 set at the Brooks PR Invitational, Renfree looks to once again test himself against a national caliber field.
Tim McInerney, SR, Christian Brothers Academy, NJ: McInerney punched his ticket to Millrose the old-fashioned way, defeating a deep field at the NYRR Millrose Games Trials on January 9th with a time of 4:16.01. McInerney comes from a program with an unmatched pedigree for producing distance runners and he will be a threat with his lethal kick and a 1600m best of 4:10.37.
Will Baginski, SR, Ridgewood, NJ: Baginski finished second at the Millrose Trials behind McInerney with a PR of 4:16.87, earning him an at-large invite to the main event. The senior placed sixth at the Manhattan XC Invitational this past October. His teammate Camryn Wennersten will compete in the Millrose Girls High School Mile.
Shea Weilbaker, SR, Saratoga Springs, NY: Weilbaker claimed the first automatic Millrose invite of the season by winning the Mile at the Coaches Hall of Fame Invitational in a time of 4:19.27. The senior is one of the most credentialed long-distance athletes in the field, winning the NYSPHSAA cross country championship this past November, to go along with his 3200m titles, indoors & outdoors.
Sean Ryan, SR, Northport, NY: Ryan earned his Millrose bid by finishing second to Matt Rizzo at the Hispanic Games with a personal best of 4:17.93. The senior ran a leg on the runner-up 4x800m relay at the 2018 NYSPHSAA outdoor championship and won the 3200m at this year's Molloy Stanner Games hosted by The Armory.
Tobias Wolfson, JR, Riverdale, NY: An Armory regular, Wolfson participated in every Millrose qualifying event and his persistence paid off at the New Balance Games. Finishing second behind Alex Rizzo, Wolfson ran a personal record of 4:18.04, holding the lead late and doing enough to earn an at-large bid. Wolfson is also the reigning USATF Junior Olympic regional champion in the 800m.
Sam Affolder, SR, Loudoun Valley, VA: Hailing from the same program that has produced outstanding athletes such as professional runner Drew Hunter, Affolder holds 4:08.69 PR. He is also a sub-9 minute 3200m performer and he ran a leg on the winning 4 x 1 Mile relay that set the national record of 17:01.82 at New Balance Nationals Indoor at The Armory. Affolder's brother Noah holds the Millrose record of 4:07.24, set in 2017.
Sam Toolin, SR, North Kingstown, RI: Toolin holds a Mile personal best of 4:13.43 dating back to 2016, which he came close to equaling with a 4:14.53 at Boston University last month. Since then, Toolin has picked up victories at the East Coast Invitational and the URI Rhody Classic. He also placed third at the Rhode Island state cross country championships last November.
Carter Cheeseman, SR, Fort Worth Christian, TX: Cheeseman is the reigning Texas 5A cross country state champion and he went on to finish tenth at the Foot Locker National Championships. On the track, his Mile PR is 4:12.20 and he ran a superb 2 Mile time of 8:57.33 at the Brooks PR Invitational, while also winning state championships in both events. Cheeseman's father competed in the high school Mile at Millrose in 1984.
The 112th NYRR Millrose Games will be televised live nationally by NBC Sports from 4:30-6:00pm and live streamed on USATF.TV from 11:30am-4:00pm NBC Gold will have live streamed bonus coverage from 4:00-6:00pm
For more information on the 112th NYRR Millrose Games and to purchase tickets, go to: nyrrmillrosegames.org