New Jersey's All-Time Sub-4 Minute Milers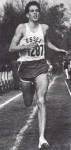 May 09, 2019
Only one high school in the state has produced two sub-4 Milers.
By Jim Lambert, Mile Split NJ
With Monday marking the 65th anniversary of Roger Bannister becoming the first sub-4 minute Miler ever, this seemed like a perfect time to take a look at all the New Jersey high school grads who have broken the magical 4-minute mark
Bannister did what no had ever done before when he stopped the clock at 3:59.4 on May 6, 1954 on a cinder track at Oxford University's Iffley Road Stadium in England.
Since then, joining Bannister on the sub-4 list is what every great Miler aspires to achieve.
NJ has had a great run of sub-4 Milers in recent years, a list 26 deep that is headed by Edward Cheserek and Olympians Marty Liquori & Robby Andrews.
Liquori (photo, above), who starred at Essex Catholic High School and made the 1968 Olympic team as a 19-year-old, ran the still-standing NJ high school state record of 3:59.8 in 1967. He went on to run a PR of 3:52.2 in 1975, which stood as the #1 time by a NJ high school grad until Cheserek blasted a 3:49.44, #3 all-time on the World Indoor list, at the David Hemery Valentine Invitational at Boston University on Feb. 9, 2018.
Andrews, a 2016 Olympian who ran at Manalapan High, checks in at #3 with the 3:53.16 he ran at the the 2016 Millrose Games at the NY Armory.
Only one high school in NJ has produced two sub-4 Milers. Any guesses?
Time's up.
Continue reading at: nj.milesplit.com