NH running festival to host Mad Moose Mile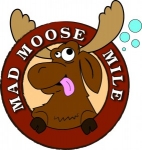 October 14, 2013
Swag is limited to the first 200 runners: beer sampling glass and hunter's hat
By Bradford Randall, The Telegraph
NASHUA, N.H. – This coming weekend, Nashua will be sprinting into the history books as the The Telegraph, in conjunction with NH.com and Millennium Running, hosts the city's first annual running festival at the YMCA of Greater Nashua.
The New Hampshire Running Festival will take place over two days, beginning Friday with the "Mad Moose Mile", followed a 5K/10K Santa Fund Run on Saturday.
Friday's Mile-long race, or the "Mad Moose Mile," will take place during the N.H. Running Festival Expo, which will run from 4:00 to 8:00pm on Friday, October 18. The expo, put on by the Greater Nashua Chamber of Commerce, "will showcase vendors who cater to the sports and wellness industry."
The first 200 runners to register for the "Mad Moose Mile," which will start at 6:00pm, will receive a free hunting hat and beer sampling glass. During the race, runners will chase a man wearing a moose suit. The "Mad Moose Mile," which coincides with the opening of moose-hunting season, will be followed by a pub crawl.
Continue reading at: www.nashuatelegraph.com