Nick Willis: A Man in Full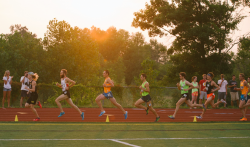 August 19, 2015
The New Zealand Miler has been at the top of the sport for more than a decade, but his speed and motivation are stronger than ever. At 32, he sets out to crown his career with another major medal.
By Cathal Dennehy, Running Times
The IAAF World Championships begin on August 22 in Beijing, China. Nick Willis of New Zealand begins his quest for another global championship medal—he won silver at the 2008 Olympics in Beijing—with the first round of the 1500 meters on August 27. As doping allegations cloud track and field this summer, Willis has been outspoken about performance-enhancing drugs on social media and in the press. Running Times profiled Willis in the July/August 2015 issue as he prepared for the 2015 outdoor season and beyond.
It's a freezing Saturday evening in Boston, early February, and the city shivers in a bone-chilling wind. The streets are dark, deserted, the ice-rink sidewalks flanked on each side by imposing, 5-foot mounds of snow. A few thousand track fans begin filtering out of the Reggie Lewis Center in Roxbury, hunching their shoulders and holding their arms close, trying to preserve heat.
Continue reading at: runningtimes.com