Nick Willis Lives, Breathes the Mile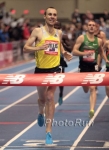 February 05, 2015
2008 Olympic 1500m silver medalist taking on all-comers at New Balance Indoor Grand Prix Mile on Sat, Feb 7 in Boston.
By Elliott Denman, RunBlogRun.com
The way Nick Willis looks at it, the long stretch - almost all of the 2009 season and much of 2010 - that he missed with knee trouble and then surgery - was pretty much a blessing in disguise.
Sitting out high-level racing as he rehabbed gave the noted New Zealander the chance to recharge all his competitive batteries and build back the core strength that had lofted him close to the top of the global 1500m / Mile racing heap in the stretch between 2005 and 2009.
By the fall of 2010, Willis was back in peak form and has been duking it out with the global elite ever since.
He'll be 32 on the 25th of April but reckons he doesn't have the wear and tear on those precious limbs that any world class runner his age would be expected to have.
Sitting it out for that stretch, he "got to smell the roses" and realize all that he was missing while sitting on the sidelines.
And he's been better and faster once he got back to the fray.
"It may seem hard to explain to some people, but my speed keeps improving and I'm going to stay in the sport as long as it does," Willis said in a telephone interview Tuesday from his winter training base in Flagstaff, Arizona.
Continue reading at: www.runblogrun.com