Nick Willis Looks Back at Wanamaker Mile, Seeks First Title This Year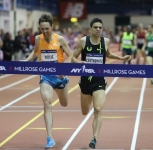 February 01, 2018
"I'm returning once again to the Armory for my 20th race in New York City. It's really hard to believe that I've raced so many times in one city, but New York truly has become a home away from home during my running career."
From NYRR
On Saturday, February 3, 2018, two-time Olympic medalist Nick Willis of New Zealand will race the NYRR Wanamaker Mile, the signature event of the NYRR Millrose Games. With less than a week to go before he's at the starting line, Nick shares his thoughts on why winning this year's race is so important to him.
Sure, I'm biased.
But the Mile is one of the great races.
It's the perfect marriage of speed & endurance, agility & power, tactics & excitement—all packed into about 4 minutes.
New York City has embraced this event like no other with the NYRR Wanamaker Mile—part of the NYRR Millrose Games—to kick off the year, and the New Balance Fifth Avenue Mile to end the summer season.
As a wide-eyed 17-year-old kid from New Zealand, I not only got my first taste of running in the Big Apple, but also experienced the infamous banked boards of an indoor track. I had been invited to compete at the famous Armory track with the hopes I might break the magical 4-minute barrier at the National Scholastic Indoor Championships.
The sub-4 didn't happen, but the thrill of running indoors with the crowd right on top of me got me hooked.
I wanted more.
Little did I know the next 17 years would give me exactly that.
Continue reading at: blog.nyrr.org