NYRR to Celebrate Global Running Day with Virtual Events for Runners of All Ages & Abilities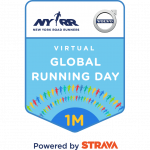 May 31, 2021
On Wednesday, June 2, runners from all over the world to join Olympic medalist Meb Keflezighi in Virtual NYRR Global Running Day 1M and accompanying youth race
From NYRR
New York Road Runners (NYRR) have announced its virtual experiences for Global Running Day on Wednesday, June 2, a worldwide celebration of running that encourages everyone of all ages & abilities to get out and run. Global Running Day is held annually on the first Wednesday in June, uniting runners around the world through events, activations and virtual experiences.
As part of these efforts, NYRR will host a variety of digital engagements for runners at all levels, including a Mile virtual race, the Virtual NYRR Global Running Day 1M. Leading the race will be 2004 Olympic silver medalist and 2009 New York City Marathon champion Meb Keflezighi, who will run his Mile course, through his hometown of Tampa, FL. Additionally, NYRR will host a virtual youth race, online senior fitness classes and a virtual challenge for local runners to encourage them to visit their neighborhood parks.
"I'm so excited to be celebrating Global Running Day, one of my favorite days of the year, with a run with my family, and virtually with thousands of other runners from around the world," said Keflezighi, the only athlete to earn an Olympic medal and win both the New York City & Boston Marathons. "I have gained so much from the sport of running, and I look forward to sharing it's transformative power with others from every corner of the globe, especially as we can all benefit from a physical and mental health boost now more than ever."
"Global Running Day serves as an annual celebration that brings together runners from all over the world to share their passion for the sport," said Kerin Hempel, Interim CEO, NYRR. "Running is loved by people of all ages and all backgrounds, and this day exemplifies the unifying nature of running and the positive impact it makes across the global running community." Runners of all ages can take part in Global Running Day in the following ways:
Virtual NYRR Global Running Day 1M
irtual races allow runners anywhere in the world to run a race at their convenience in the location of their choice over a specified period of time. Registration for the NYRR Virtual Global Running Day 1M is now open, and runners can participate from June 1 to June 6.
Rising New York Road Runners Global Running Day Virtual Race
Kids can join in on the Global Running Day festivities by registering for the Rising New York Road Runners Global Running Day Virtual Race. Kids of all ages can pledge to run a Mile, 1.5-Mile or 5K distance between June 1 and June 6.
NYRR Open Run Global Running Day Virtual Challenge
For those in the greater NYC area, the NYRR Open Run Global Running Day Virtual Challenge encourages runners and walkers to get to know their local parks by participating in the 4-week challenge to run a collective 90 miles, happening now through June 16.
NYRR Striders at Home
NYRR Striders, the organization's year-round senior fitness program, has developed an online platform to support seniors & their families and caregivers, keeping them active from the safety of their homes. NYRR Striders at Home aims to improve attitudes toward exercise while making fitness more accessible. All the activities are mindful of space and social distancing.
Around the world, running organizations are putting on celebrations to bring people together through running, many of which can be found at: GlobalRunningDay.org