Olympian Dyrol Burleson addresses Cascade High students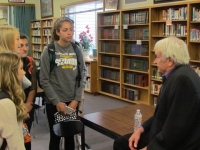 October 27, 2017
"I had the desire not to lose... I guess that's a mental side."
By Justin Much, Stayton Mail
Who better is there to ask about his favorite place to run than a world class runner?
Two-time Olympic middle-distance runner Dyrol Burleson, an inductee of the National Track & Field Hall of Fame, fielded that question from Cascade High School cross country runner Savanna Waters Thursday, Oct. 19.
What may have been a surprise to Waters and other student athletes on hand, the Olympian's answer came very close to home.
Burleson, 77, addressed student-leadership athletes, coaches, staff and other noon visitors to Cascade's library in an event co-hosted by Yesterday In Turner, the town's historical society. It provided an eye-opening glimpse into the steely eyes of a Cottage Grove, Oregon-raised runner who hated to lose and parlayed that disdain into international fame.
He has lived in the rural Turner area for 19 years.
"We claim him as part of our history," Turner Mayor and Yesterday In Turner member Gary Tiffin jested.
Among Burleson's distinctions, he was University of Oregon's first scholarship track & field athlete, competing for the school's legendary coach Bill Bowerman. Burleson was also the second American runner to break the 4 minute Mile; the first to run a sub-4 minute Mile at storied Hayward Field.
Continue reading at: statesmanjournal.com