Olympian Manzano warming up for a big 2016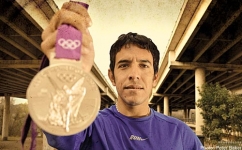 December 23, 2015
"The 1500 has gained a lot of momentum. It's a big event in the Olympics. The competition is incredible. U.S. distance running is the best in the world with Kenya."
By Jennifer Fierro, DailyTrib.com
BURNET — Olympic medalist and Marble Falls High School graduate Leonel Manzano is using the final weeks of 2015 to get ready for a big 2016.
The USA Track & Field Indoor Championships are in March. The U.S. Olympic Trials are 6½ months away. Manzano has competed in the Olympics twice: the first in 2008 in Beijing; the second in 2012 in London, where he won the silver medal in the 1500 meters. The 2016 Summer Olympics will be in Rio de Janeiro.
Though the middle-distance runner's 2015 season ended in the fall, it's been a busy few months for the Granite Shoals native.
He went to Mexico for a much-needed vacation, flew to Los Angeles to film Olympic promos for NBC and has made numerous appearances across the country.
One of those appearances was at the second annual unBEARable Fun! Run on Dec. 5 at Eagle's Wings Retreat Center in Burnet, where he ran the course with about 50 racers of all ages — finishing fourth.
Continue reading at: www.dailytrib.com