Olympians, Past Champions Headline New Balance 5th Avenue Mile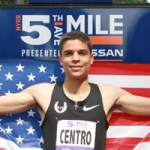 September 08, 2021
Tokyo Olympians Matthew Centrowitz, Paul Chelimo, Clayton Murphy, Jake Wightman and Jemma Reekie to close seasons by racing down Manhattan's most famous thoroughfare live on USATF.TV; $34,000 prize purse; 20 heats to be run, including FDNY / NYPD heat to mark 20th anniversary of 9/11
From NYRR
NEW YORK - To close out their seasons, 15 Tokyo Olympians, three Olympic medalists and two past event champions will race down Manhattan's most famous thoroughfare in the professional athlete heats at the New Balance 5th Avenue Mile on Sunday, September 12.
The 40th running of the world's most iconic Mile road race since 1981 – stretches 20 blocks along the east side of Central Park. In addition to age-group heats, there will be an NYPD / FDNY heat taking place to mark the 20th anniversary weekend of 9/11, a Back to School Mile for youth ages 12-18, a George Sheehan Memorial Mile for seniors and NYRR Road Mile Championship heats.
"The New Balance 5th Avenue Mile is an iconic race which invites people of all ages and abilities to run down one of the most famous streets in New York City," said Ted Metellus, Vice President of Events, NYRR and Race Director, TCS New York City Marathon. "This year will be incredibly exciting with a number of Olympians joining us after their top performances in Tokyo, and we are looking forward to showcasing the city's resiliency and honoring the work of those participating in the FDNY / NYPD heat to mark 20 years since 9/11."
The NYRR Road Mile Championships and professional athlete races will be livestreamed FREE on USATF.TV beginning at 11:35am ET with pro races 12:15pm (women) and 12:30pm (men), with a webcast replay for on-demand-viewing available on USATF.TV+.
Leading the way in the professional men's race will be three-time U.S. Olympian Matthew Centrowitz who won Rio 2016 Olympic gold in the 1500 meters and the 5th Avenue Mile in 2012, and two-time U.S. Olympian Paul Chelimo, who won bronze in Tokyo and silver in Rio in the 5000 meters.
"I'm excited to return to New York for my sixth race down 5th Avenue, a race I first won nine years ago," Centrowitz said. "Heading back East and ending my season there is like a great end-of-summer tradition, and I'm looking to show the rest of the guys I've still got a step or two left in 2021."
"I've already run a 5K and half marathon in New York, so now I just need to check the Mile and the marathon off my list," Chelimo said. "Running a straight line down 5th Avenue is very different than running laps on a track, and I've got more road racing experience than the other guys in this field. I'm confident in my finish, so if I can keep it close through halfway, I think I can beat the Milers at their own game. Go hard or suffer for the rest of your life."
Challenging them will be two-time U.S. Olympian and 2016 Rio Olympic bronze medalist in the 800 meters Clayton Murphy, Olympian and 2018 event champion Jake Wightman, Olympian & European Indoor Championships gold medalist Adel Mechaal, 2021 Guardian Mile champion Johnny Gregorek and rising stars Ollie Hoare, Geordie Beamish & Sam Prakel.
A trio of other Americans to watch will be Tokyo Olympians Joe Klecker, Mason Ferlic and Hilary Bor, with Ferlic racing the event for the third time and Klecker and Bor making their debuts in the event after competing in Tokyo earlier this year.
The professional women's race will see a first-time winner, with top contenders including recent Downtown Yakima Mile winner Nikki Hiltz, 2021 USATF Road Mile Championships runner-up Shannon Osika, British indoor 800m & Mile record holder and Olympian Jemma Reekie and European Indoor Championships gold medalist & 2021 Falmouth Elite Mile champion Amy-Eloise Markovc.
The overall prize purse totals $34,000 with $32,000 available for the professional Mile races.