Olympians Wightman, Reekie win New Balance 5th Avenue Mile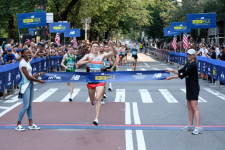 September 12, 2021
At 40th edition, nearly 4,000 finishers in 20 heats run, including FDNY / NYPD heat, on 20th anniversary weekend of 9/11; prize purse of $34,000 awarded
From NYRR
NEW YORK - Tokyo Olympians Jake Wightman and Jemma Reekie led a British sweep of the professional athlete races at the 40th anniversary of the New Balance 5th Avenue Mile on Sunday to close out their seasons.
Under good weather conditions, Wightman, 27, cruised to the finish in 3:49.5 – the seventh-fastest time in race history – to become the fifth athlete on the men's side to claim multiple victories at the event after having won in 2018.
"I always wanted to approach this race trying to win because that's the best way to end a season, especially in New York," Wightman said. "That was my fourth run here and second win, and I think once you learn how to win it, since you've done it before it's a nice advantage."
Ollie Hoare of Australia was the runner-up in the men's race in 3:50.3, followed by Great Britain's Jake Heyward in 3:50.4. Sam Prakel was the top American finisher, taking fourth in 3:50.4 Overall, 15 men went sub-4 minutes.
Reekie, a British indoor 800 meter & Mile record holder who was fourth in the 800m at the recent Olympics, was making her debut on 5th Avenue. The 23-year-old led the way in the professional women's race presented by Mastercard in 4:21.6, becoming the first woman other than Jenny Simpson to win the race since 2012. It also marked the second time in history there was a British sweep in the professional races, following Peter Elliott and Kirsty Wade's victories in 1987.
"This is always a meet I've wanted to run, and Jenny's won eight times, so it was great to follow in her footsteps and be here in New York," said Reekie who like Wightman also hails from Scotland.
American Nikki Hiltz was runner-up in 4:23.0, followed by American Shannon Osika in third, clocking 4:23.2. Overall, 11 women ran under 4:30.
The New Balance 5th Avenue Mile – the world's most iconic Mile road race held since 1981 – stretches 20 blocks along the east side of Central Park. In addition to the professional athlete heats there were age-group heats, an NYPD / FDNY heat to mark the 20th anniversary weekend of 9/11, a Back to School Mile for youth ages 2-18, a George Sheehan Memorial Mile for seniors and NYRR Road Mile Championship heats. Anthony Morales was the top NYPD finisher in 4:36 and Gregory Dotson was the top FDNY finisher in 4:37.
40th New Balance 5th Avenue Mile
New York, NY, Sunday, September 12, 2021
MEN
1) Jake Wightman (GBR), 3:49.5, $5000
2) Oliver Hoare (AUS), 3:50.3, $3500
3) Jake Heyward (GBR), 3:50.4, $2500
4) Sam Prakel (WA), 3:50.4, $1500
5) Vince Ciattei (OR), 3:51.0, $1000
6) Charlie Grice (GBR), 3:51.5, $750
7) Tripp Hurt (CO), 3:52.8, $500
8) Johnny Gregorek (NY), 29, 3:53.0, $250
9) Charles Philibert-Thiboutot (CAN), 3:53.2
10) Adel Mechaal (ESP), 3:54.1
WOMEN
1) Jemma Reekie (GBR), 4:21.6, $5000
2) Nikki Hiltz (CA), 4:23.0, $3500
3) Shannon Osika (MI), 4:23.2, $2500
4) Kate Van Buskirk, (CAN), 4:23.8, $1500
5) Dani Jones (CO), 4:24.4, $1000
6) Alicia Monson (CO), 4:25.3, $1750*
7) Eleanor Fulton (WA), 4:25.6, $500
8) Alli Cash (WA), 4:27.0, $250
9) Marisa Howard (ID), 4:27.5
10) Sage Hurta (CO), 23, 4:27.6
*includes $1000 halfway prime
Complete results HERE.
Photos courtesy of NYRR