Olympic bronze medalist and legend Rod Dixon: yesterday and today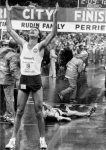 April 09, 2016
Runner's World's "The Most Versatile Runner" of the last half of the 20th century giving back to the sport via his KiDSMARATHON Foundation
By Jerry Lee, SI Live
When one looks at the career accomplishments of New Zealand's Rod Dixon, you would think that the Kiwi would feel fulfilled.
The running legend, who will be coming to Staten Island in a few weeks to appear at a couple of local events here, notably the Michael McVey Dinner Roast and 5K, has carved out a truly remarkable running career on both the track and the roads.
In the 1972 Munich Olympics, Dixon, who was ranked 43rd in the world, surprised everyone by winning the bronze medal. Two years later, Dixon ran the Commonwealth Games 1500 in 3:33 (the equivalent of a 3:50 Mile), finishing fourth and losing to the world record championship performance of Tanzanian Filbert Bayi.
Continue reading at: www.silive.com