Olympic Hopeful Seeks to Deliver on Promise to His Sister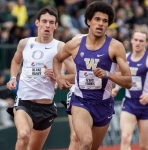 May 15, 2016
Top NCAA indoor Miler Izaic Yorks wants to close out his NCAA career on top before heading to the track trials
By John Kissane, RunnersWorld.com
In the past four months, Izaic Yorks, a senior at the University of Washington, has run personal bests at four distances, including the Mile (3:53.89). That Mile was the third-fastest in NCAA indoor history and best ever by an American collegian indoors.
With the Pac-12 outdoor championships this weekend on the Huskies' home track in Seattle, Yorks, 22, is beginning his stretch drive toward the NCAA championships in Eugene, Oregon, next month and the Olympic Trials after that.
Following a standout prep career at Lakes High School in Lakewood, Washington, Yorks went to the University of Portland in the fall of 2012. He struggled somewhat as a freshman, in part because he wanted to be closer to his family, including his younger sister, Brittany, 21, who was born with developmental and physical disabilities and uses a wheelchair. Since transferring to Washington a year later and adjusting to his new school and team, Yorks has been happier and training consistently.
On May 1, Yorks won the 1500 meters at the Payton Jordan Invitational against a field of pros in 3:37.74.
Runner's World: Tell me a little about how you got started running.
Izaic Yorks: Growing up I wasn't very good at sports, and I was actually the opposite of the kind of kids who did sports. I was very big into Pokémon and loved the sofa. But in 2008 my sister and I were watching the Olympics and she made a comment that changed things. Brittany has a couple different things going on health-wise, including a mental development gap, and she has a very hard time articulating her thoughts. But as one grows up with someone like that you begin to understand their feelings and it's almost like sharing a secret language. So we were watching a race and she said, "I'd really want to run like that."
Continue reading at: www.runnersworld.com