Olympic silver medalist Leonel Manzano inspires McFarland USA youth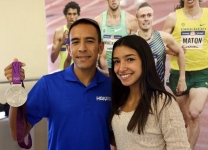 October 05, 2017
"Anytime I talk to people, I say, 'Follow your passion, and do what you like to do,' because you really don't know where it can take you."
By Daniel Casarez, Vida en el valle
Leonel Manzano's humble beginnings as a Olympic runner began in his native Guanajuato, where, as a youngster, he often ran with his grandfather.
Manzano celebrated his silver medal achievement and a podium appearance at the 2012 Olympic Games in London. It was his second appearance in the Olympic Games, the first was in 2008 in Beijing.
His family had immigrated from the Guanajuato, México when Manzano was about four years of age. They settled in Granite Shoals, Texas, where he achieved an American education and earned numerous running accolades prior to his qualifying for two Olympics.
"Running wasn't very common in the region in México, where my family comes from. Sports is always looked as something of a past time," said Manzano, who won nine Texas high school state 4A championship titles and is the second fastest Mile runner in Texas history (3:50.64).
He was in middle school when he decided to pursue running.
Manzano, 33, shared with strategies about his work ethic and up-bringing with nearly 200 people at McFarland High School on Sunday (Oct. 1). He's seen McFarland USA twice, and was eager to see the school that inspired an entire community.
Continue reading at: vidaenelvalle.com