On the Record, Off the Market: Kyle Merber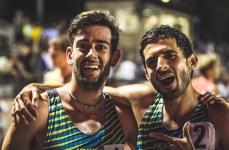 October 03, 2017
Being healthy is the number one priority. It's easy to always go hard, but sometimes it's hard to go easy.
By Will, Running Warehouse blog
If you follow American Track & Field, you're probably familiar with Kyle Merber. However, unless you've been closely following his career, you may not be aware of just how much this middle distance phenom has achieved in the past five years. In 2012 Kyle—then a senior at Columbia University—stunned the nation by setting the American Collegiate Record in the 1500 meters, clocking 3:35.49. Since then he has continued to drop his PRs, raced in multiple USA Championships and Olympic Trials, helped Team USA set the World Record in the DMR, and (spoiler alert) gotten engaged! With such an impressive pedigree, we wanted to catch up with Kyle (not an easy feat) and get his personal take on the 2017 season as well as what's coming up next.
What did you eat for breakfast this morning?
I made a smoothie with banana, lots of berries, spinach, oats and almond milk. Washed it down with an espresso.
How do you handle being meet director at the HOKA ONE ONE Long Island Mile while managing your own training and racing?
I'd be lying if I said it's not difficult, but it gets easier each year. I know now that it's going to wear on me a bit, both mentally and physically, so I make adjustments with training. I don't sleep great the week-of because I am thinking of everything we still have to do, so I make sure I sleep a ton the week before.
What was that experience like for you this year with the added emotional strain of David Torrence's passing?
This year's race was especially tough due to David's passing. Not only was he going to come back to race and defend his title, but he was a good friend to myself and many of the athletes there. The moment before the gun went off he was introduced as bib #1, and I had tears in my eyes as we toed the start line.
Continue reading at: http://blog.runningwarehouse.com