Once a Jayhawk, Always a Jayhawk: Bob Timmons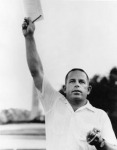 November 06, 2014
"Our practices were tough, but he was creative...Coach Timmons had big demands, but he always produced great results." - Mile legend Jim Ryun
By Adam Sullivan, KU Communications Student Assistant
Travel out to Lawrence's Rim Rock Farm and a couple of things will stand out. The first being how beautiful the setting is and the second being the giant statues of the University of Kansas' track legends. One of those legends is former head coach Bob Timmons who was not only a legendary coach but an extraordinary man who has left quite a legacy.
AS A COACH
Timmons' coaching days began in 1950 at Caldwell High School located in Caldwell, Kansas. He continued that career at other Kansas schools including: Emporia, Wichita West, Wichita East and the University of Kansas. He won numerous championships and awards in his 24 years as the Jayhawks' leader, but the most prominent were the four track & field NCAA Championships, 12 Big Eight Outdoor Championships and two cross country national titles. He coached several tremendous athletes along the way, the most noteworthy being Jim Ryun. Timmons began coaching Ryun at Wichita East High School in the early 1960's and knew he had a star in the making.
Walking the halls of Wichita East, Ryun was not the atypical superb-looking athlete. He was fairly skinny and a novice runner at the time. However, Timmons saw the potential in Ryun and ran with it.
"Coach used to do these things we called 'Timmie talks'," stated Ryun. "He would have each athlete sit next to him on the bus ride home and go over goals and school, etc. On our way back from a meet at Washington High School, Timmons called me up and told me he thought I could run the Mile in under 4 minutes."
Ryun went back to his seat surprised and somewhat stunned after Timmons' comments. Timmons was right, however, Ryun would break the 4 minute Mile mark not once, but twice, in his high school career; the first being a time of 3:59. The second came a year later at the state track meet in Wichita as he finished with a time of 3:58.3. Though Ryun was blessed with the ability and talent to finish in record time, it was Timmons who brought out the best in not only Ryun, but in everyone around him.
Continue reading at: www.kuathletics.com