One week to the fulfillment of her dreams: Elise Cranny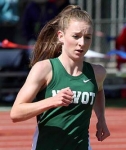 July 17, 2014
Teen phenom excited and ready to represent Team USA at World Junior Championships in Eugene, OR
By MileSplit.com Colorado
For Elise Cranny, another showdown with fellow teen talent Alexa Efraimson looms later this month. But this time it is about so much more than Cranny vs. Efraimson. It's about the world's top juniors settling it all on 1500 stirring meters of racing in Eugene, Oregon at storied Hayward Field.

It was four years ago this summer that Elise Cranny started competitive running. And, while she had a very good freshman year, it would be reaching to suggest that anyone saw this coming four years ago.

Yet, the opportunity has arrived.

The USA gear has arrived at Cranny's door, and she is upbeat about the opportunity before her, "I am excited for the opportunity to represent the USA. When I received all of the USA gear, I felt very excited and proud to be able to wear the red, white, and blue…especially on U.S. soil. I am looking forward to racing the best juniors in the world and know it will be great for my development as a runner."

For Cranny, it's been a long season to get to this point. She has been racing since February, and some of the regular wear and tear of that started to take a toll on her.

"Prior to the Colorado state track meet, I started developing shin and heel pain. I finally discovered that it was coming from a small change in the model of shoes that I had been training in for years. Knowing that my ultimate goal was qualifying for Worlds, I had to back off my training and racing in order to heal."
Continue reading at: co.milesplit.com/articles