Penn State Ability Athletics to host Run, Walk and Roll Mile Race Oct. 24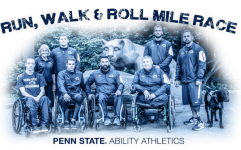 October 10, 2015
The Ability Athletics track and field team is made up of both student-athletes from Penn State and adults in the area who are physically disabled and seeking athletic competition. Proceeds help the athletes compete in national and international events at the highest level.
From Penn State Ability Athletics
Penn State Ability Athletics will host a Run, Walk and Roll Mile Race on Saturday, Oct. 24, to raise funds for the program, which supports physically disabled athletes and local wounded warriors.
Race registration will begin at 7:30 a.m. Oct. 24 on the steps of Rec Hall. The entry fee is $15 if registration is completed in advance through RunReg.com or $20 on the day of the race (cash or check only). The first 300 participants to register will receive a complementary race T-shirt. All participants must fill out a waiver and present it on race day.
The race will begin at 9 a.m. for Ability Athletes, Penn State celebrity athletes, and individuals with disabilities. At 9:15 a.m. the elite runners group will start, followed by a 9:30 a.m. start time for the kids division and for anyone who wishes to walk the course.
Continue reading at: news.psu.edu