Plymouth street dedicated to Olympian Morgan Uceny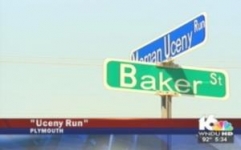 August 03, 2012
By WNDU-Channel 16
Olympic fever is in full swing in Plymouth as Mayor Mark Senter honored one of the city's own on Friday.
Senter unveiled a new street sign dedicated to Olympic 1500 meter star Morgan Uceny.
The street, now called Morgan Uceny Run, is usually known as Randolph street across from the high school.