Pro Q & A: Jack Bolas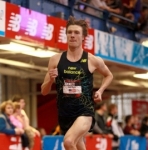 May 08, 2014
Jack Bolas, a member of the professional field at the Medtronic TC 1 Mile on Thursday, answered some questions recently for TCM Blog readers. The University of Wisconsin alumnus talks about what the four-minute mile means to him!

With the 60th anniversary of Roger Bannister's first-ever sub-4:00 Mile coming up the same week as the Medtronic TC 1 Mile, can you tell us what the "four-minute Mile" means or has meant to you during your career?
The 4-minute Mile was always a barrier that I wanted to break starting in high school until I ran 3:59 my sophomore year in college. Even after that first time, a "sub 4" continues to be an achievement that I strive for whenever racing the Mile. The 4 minute Mile is a piece of history that everyone can relate to. It connects the running world to the everyday world, so 60 years after the first one was run, it remains a very special accomplishment.
Continue Reading at: www.tcmevents.org