Pro runners go extra Mile prior to downtown Pittsburgh event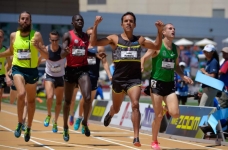 August 01, 2014
"Liberty Mile is really the first race that takes the professionals and integrates them directly into the community at ground level, which I think is really special." - Jordan McNamara
By Karen Price, Tribune-Review
Jordan McNamara stood in front of dozens of Summer Dreamers Academy campers at Helen S. Faison Arts Academy in Homewood on Wednesday and asked a question.
"Who likes to run?" he asked, followed by, "Why do you like to run?"
Hands shot in the air.
One boy said because he was the fastest kid in the world. A girl said because it helps her build muscles. Another child said it keeps her energized.
Before long, McNamara and two other professional runners in town for Friday's GNC Live Well Liberty Mile race, Heather Kampf and Leo Manzano, were running through the grass with the kids. They jogged around the perimeter of the field, set up mini races and ended with some stretching and strengthening moves.
For the past five weeks, approximately 120 campers in the Pittsburgh Public Schools program have been training with a coach from the Liberty Mile in preparation for the race through the streets of Downtown on Friday. The Liberty Mile, in its third year, is produced by Pittsburgh Three Rivers Marathon Inc. A total of 1,200 runners competed last year.
Continue reading at: http://triblive.com