Professional Runners to Visit Summer Dreamers Academy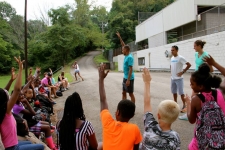 July 28, 2015
GNC Live Well Liberty Mile champions Jordan McNamara and Heather Kampf inspire Pittsburgh youth to stay active and eat healthy
From P3R Events
Defending race champion Jordan McNamara and two-time race champion Heather Kampf will make a special visit to Pittsburgh's Summer Dreamers Academy before competing in the 4th GNC Live Well Liberty Mile, scheduled for Friday evening, July 31. The Summer Dreamers Academy, a free summer learning camp from Pittsburgh Public Schools, offers the Kids of STEEL program to 3rd, 4th and 5th graders at Camp South Hills through a partnership with Pittsburgh Three Rivers Marathon, Inc. (P3R).
During their Thursday afternoon, July 30 visit, McNamara and Kampf will lead running exercises and emphasize the importance of staying active and eating healthy. The students then have the opportunity to run the Kids of STEEL wave at the GNC Live Well Liberty Mile on Friday evening. Afterwards, they are encouraged to watch the American Development Pro Mile wave and cheer on McNamara and Kampf, along with other top American Milers.
As part of the 5-week program, P3R staff has provided daily coaching and nutrition education, which has included running exercises, games and food tastings. As part of the instruction, students have learned about MyPlate and the five food groups.
"Continuing our efforts to give back to our community, P3R is proud to be an official enrichment provider of the Summer Dreamers Academy in 2015," said P3R CEO Patrice Matamoros. "We look forward to sharing our resources and expertise to the next generation of active and healthy Pittsburghers."
For more information about the Kids of STEEL program, visit: http://www.thepittsburghmarathon.com/KidsOfSteel
About the Pittsburgh Three Rivers Marathon, Inc. (P3R)
Pittsburgh Three Rivers Marathon, Inc. (P3R) is a non-profit organization which promotes the love of long-distance running and enhances community involvement in fitness activities through high quality events open to a wide variety of ages and ability levels. Our events will consistently serve the needs of our runners and our sponsors; will engage and reward our volunteers; will enhance the economic well-being of the Pittsburgh region; will partner with public and private entities to create the best possible event experience; and partner with appropriate charitable organizations to give back to the community.
For more information, go to: http://p3r.org
FACEBOOK: P3Revents TWITTER: @P3REvents