Protecting the Family Name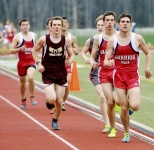 April 24, 2016
The success he's had in the Mile seems to have lit a fire within Zach LeMay, who said he now has a chance to eclipse a mark set my one of his older brothers.
By Matt Wagner, Star Beacon
The last name of LeMay brings with it high expectations when it comes to Edgewood running.
The twins of Chris and Josh LeMay created that outlook with their performances on the cross country courses and the track throughout their four years as Warriors. Chris qualified for the state cross country meet three times, earning All-Ohio honors his junior year when he finished 12th in the Division II race, and he also made the podium in the 3200-meter race at the state track and field meet in 2014, placing eighth. Josh, meanwhile, qualified for the state cross country meet in 2013, where he took 41st place.
Considering all the success those two had, younger brother Zach had to deal with the pressure of being a LeMay, especially since the twins graduated last spring. Talking to his coach Jim Sanchez, Zach learned long ago to not force himself to be like his older brothers.
Continue reading at: www.starbeacon.com