What are the human limits to the 1500 and Mile?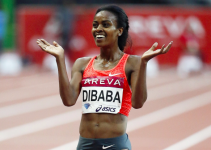 July 24, 2015
The women's 1500m record just fell after 22 years. What's the fastest humans can possibly run?
By Emma Zehner, Slate
Last week Ethiopian Genzebe Dibaba ran the fastest 1500m of any woman in history. What makes this feat even more extraordinary is that the record Dibaba broke was nearly 22 years old and many people thought it would never fall.
Dibaba's time of 3:50.07 in Monaco last Friday—beating China's Qu Yunxia's world record of 3:50.46—was only the second time below 3:55 since 1997. It raises anew questions about the limits of male and female runners in the Mile and the "metric Mile," distances whose records, before Dibaba's breakthrough, had all been stuck since the 1990s.
As Yunxia's time continued to endure record attempts year after year, some people grew skeptical about her unrivaled feat. It wasn't only Yunxia. Before last week, the four fastest 1500m times were set by Chinese women between 1993 and 1997. These races are often cited as relics from an era of lax doping regulation. However, Dibaba's performance has brought the 3:50 1500m back into the realm of believability. With it, we can once again speculate about the human limits for the Mile and the "metric Mile" and consider with fresh eyes the new techniques Dibaba and other athletes are using to pursue these marks.
Continue reading at: slate.com