Q&A: The Newest Sub-4 Miler Michael Slagowski and Coach Bob Hays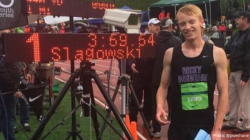 May 09, 2016
The newest HS sub-4 Miler talks making Mile history, Drew Hunter and his predictions for the next sub-4 HS Miler.
By Johanna Gretschel, FloTrack
Meet the newest member of the high school sub-4 club, Michael Slagowski of Rocky Mountain High School in Idaho. Before his 3:59.53, the New Balance Nationals Indoor 800m champion set the track world ablaze with solo runs of 1:48.70 for 800m and 4:05.71 for the Mile. Jojo spoke to Slagowski and his coach, Bob Hays, about the historic moment and what comes next.
Jojo: Congratulations on the sub-4! Can you describe that night at the Nike Jesuit Twilight meet in Portland?
Michael: About a week and a half before the meet, Anthony decided he would pace it. The first lap was 59-60 seconds; we were gonna try to be at the 800m at 1:59 or 2:00. We were at 2:02 through 800m, so I just went. I think the third lap was 57 or 58, and then 60.
The atmosphere was really cool, there were a lot of people on the infield cheering. The announcer was telling the crowd I was going after it. At the end, I was pretty sure I broke it. The clock said 3:59 and it paused on the 3:59. I was just really happy and then I heard the confirmation.
Jojo: Did your teammate feel bad about slowing down in the second lap?
Michael: He didn't really feel that bad about it since I still broke four. He was happy to be a part of it.
Jojo: Was there an announcement at your high school?
Michael: On Monday, there was an announcement at school and they had me run down to the office. All the classrooms went out to give me a high five as I was running down the hallway. I was expecting an announcement or something, but not all that. There's about 2,000 kids in the school. I just ran by the classrooms that were on my way to the office, but I had to run across the whole school.
Jojo: When did the prospect of sub-4 become a realistic goal for you?
Michael: It wasn't really my plan until I ran 1:48 and then the 4:05 at small meets by myself. Both of those meets gave me confidenceto go for sub-4.
Jojo: Who wins in a race: Michael Slagowski or Drew Hunter?
Michael: I think it would be really interesting because we have different styles of running the Mile. He's more aerobic based and I have a little more leg speed from 400m, 800m. I think if there was a rabbit, it would be a really close race. And if there wasn't a rabbit, he would take it out really fast.
Jojo: Which is a tougher national record to break: 800m (1:46.45) or mile (3:53.43)?
Michael: I think the 3:53 would be harder because I think that's such a fast time for a Mile, no one has even come that close to it in high school. I think that would be tougher but both would be extremely difficult.
Continue reading at: flotrack.org
U.S. high school sub-4 listing HERE.