Q&A with Alan Webb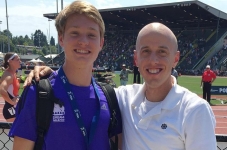 May 14, 2016
It is a sign of how well track & field is doing in general, especially in the United States. I'm happy to see that progression happening.
By mgoblue.com
After representing the block M with pride while they competed for the Maize and Blue, our student-athlete alumni have gone off to become professionals in different areas of their lives. Whether they continued on in their sport, helped to build up a company or started a family, they are building a future. They are building our future. As they leave the University of Michigan campus they go forth with all they learned here to create a better future for us all.
American track star Alan Webb first donned the Maize and Blue in the fall of 2001, and though his time at Michigan was short, it didn't take away from the impact he left on Michigan -- and the impact it left on him. Webb is an Ann Arbor native and came to U-M with a championship pedigree that had the running community buzzing. Track & Field News' High School Athlete of the Year in 2001, Webb was the first American high schooler to run a sub-4 Mile indoors. His time of 3:59.86 stood as the American indoor high school record for 15 years.
At Michigan, Webb won the Big Ten cross country title and placed 11th at the NCAA Championships for All-America honors as a freshman. An injury kept him from competing during the indoor season, but he came back with the Big Ten individual title in the 1500 meter run outdoors. He went on to finish fourth in that race at the NCAA Championships for All-America honors before turning pro in the spring of 2002. As a pro, Webb ran for Nike and competed at the Olympic and World Championship levels. He also set the U.S. Mile record that he still owns today at 3:46.91. Webb officially retired from running in 2014 and spent a few years competing in triathlon events, but is now moving to the next chapter of his life with his wife, Julia, and daughters Joanie (four) and Paula (seven months).
Q: How are you doing personally and professionally? How have you enjoyed the phase of your career as a triathlete?
A: Well, I'm no longer doing triathlons. I got in a wreck last summer, and we had our second daughter, and I wasn't really performing as well as I wanted to, so I'm moving on and actually looking for what's next. I have a four-year-old and a seven-month-old; two daughters, Joanie and Paula. Joanie is the oldest and Paula is the baby. We live in Beaverton, Oregon, just outside of Portland, where Nike world headquarters is located. I'm actually finishing up the last couple credits for my unfinished degree (economics) which I started at Michigan.
Continue reading at: www.mgoblue.com