Randon, Rizzo excel at indoor Mile for Yale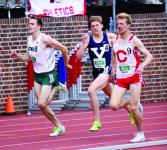 March 08, 2016
First sub-4 for Bulldog athlete by junior James Randon at IC4As: "Any track & field runner could tell you that the 4 minute Mile is a mythic barrier that every Miler aspires to break."
By Sebastian Kupchaunis, Yale News
To conclude the indoor track season, the Yale men's and women's track & field teams traveled to Boston University this weekend for the IC4A / ECAC Championships, for which 23 Bulldogs qualified. In the regional tournament, which brought together competitors from more than 50 schools from the East Coast, the Yale men tallied 22 points and placed 15th while the women placed 11th with 23 points, tying with Harvard's women's team for the best Ivy performance at the meet.
Highlights for the men, who finished second among the six Ivy schools in attendance, included the record-breaking performances put forth by James Randon '17, who joined the sub-four-minute Mile club in his victory this weekend, and the men's 4×400-meter relay team. For the women, the Mile continued to be a source of strength for Yale as Meredith Rizzo '17 posted an impressive victory of her own.
"Any track & field runner could tell you that the 4 minute Mile is a mythic barrier that every Miler aspires to break," Randon said. "To break it is simply a dream come true. I didn't feel amazing coming in honestly, but I knew it was my best shot until next year."
Continue reading at: yaledailynews.com