Records fall at Pilot Butte Challenge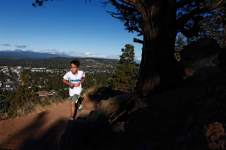 September 28, 2015
The 1-Mile run (run-walk for many) to the top of the Bend landmark certainly lives up to its name
By Victoria Jacobsen, The Bulletin
Here's the thing about the Pilot Butte Challenge: Yes, the race to the top of the Bend landmark is dispiritingly steep and occasionally vertigo-inducing. And sure, it might have crossed my mind that I could take a wrong step and roll all the way back down like Humpty Dumpty. But it is also thankfully, blessedly short.
It turns out that a Mile — even a Mile directly uphill — passes in a flash, and before you know it you are at the top of Pilot Butte, where you have a panoramic view of Central Oregon (and breakfast) spread before you. All in all, not a bad way to start a sunny autumn Saturday.
Of course, the race probably went by even faster for Bend's Jared Bassett, 25, who set a Pilot Butte Challenge men's record of 6 minutes, 52.7 seconds. Bend native Kimber Mattox, 26, was the fastest woman to finish at 7:55.4, while 28-year-old Collier Lawrence and 31-year-old Shana Sellers also beat the previous women's record of 8:32 set by Stephanie Howe of Bend in 2012.
Continue reading at: bendbulletin.com