Reebok Offers Big Bucks to Presidential Candidates If They Can Run a Mile Under 10 Mins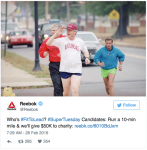 March 08, 2016
Among all the presidential race buzz, everyone's asking: Which of these people can best run our country? But Reebok is asking an even better question: Are any of them fit enough to run our country?
By Lauren Mazzo, SHAPE
They're offering a $50,000 donation to the health charity of the canidate's choice if they can complete a one Mile run in less than 10 minutes, according to a blog post on Reebok's website. While American citizens are considering health care and immigration policies, economic plans and tax regulations of the candidates, Reebok wants to know who is #FitToLead. (Although, in that case, maybe we should just hand the reigns over to the Fittest Woman on Earth.)
"As the home of fitness, Reebok believes there's an essential mental, physical, and social transformation that occurs through exercise," wrote Blair Hammond, Reebok Global Community Manager, in the blog post. "In essence, a better more rigorous workout builds a better, more rigorous brain. And a better brain can't hurt when you're on the global stage."
Fitness has been a key part of many successful presidencies: Teddy Roosevelt was was a wrestler and outdoorsman, Ronald Reagan was an advocate of a weights-and-calisthenics workout plan, Bill Clinton was famous for taking the Secret Service on jogs, current president Barack Obama boasts a non-negotiable, six-day-a-week workout routine. Plus, with the White House leading so many get-healthy initiatives, like the President's ChallengeSHAPE America, and Michelle Obama's Let's Move campaign, it's crucial for the leader of our country to practice what they preach.
Continue reading at: www.shape.com